EYFS Outdoor Area - May 2023
After years of fundraising and waiting, we have finally seen the completion of phase 1 in our EYFS outdoor area. The team from Cool Canvas worked extremely hard for just over a week to create us a fantastic new space. The children now have a wonderful area of artificial grass, a dry river bed and water wall. The weather changed just in time for us to have so much fun exploring in the sunshine.
Many thanks to our PTFA for supporting this project, particularly when raising over £1600 from the sponsored walk. We are extremely grateful to our local community who have provided donations, including the Church St Fund and Roger Dolphin for donating the proceeds from one of his quiz sheets.
We have held non-uniform days, cake sales, sold Christmas cards and collected proceeds from the school nativity, which has all been possible with the generosity of our parents and families.
Thanks to our families and local community swiping their Co-Op card we have received a fantastic donation of £1498.33 from the Co-Op local community fund.
Now to start more fundraising so we can raise enough money for phase 2!
BEFORE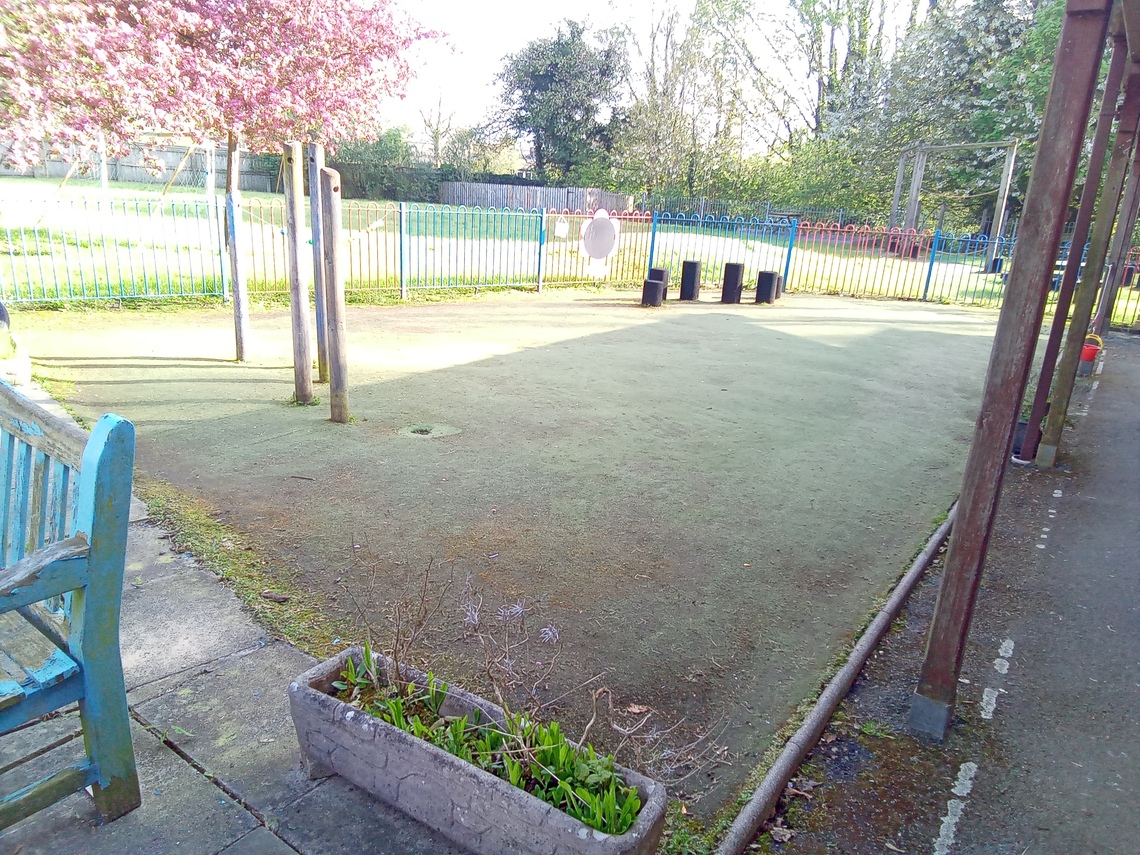 AFTER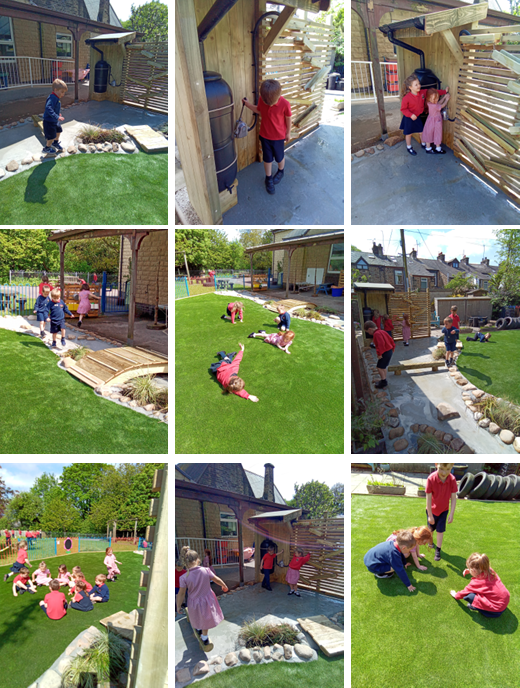 Outdoor Space update - June 2021
Lancashire Wildlife Trust have been back to move the pond, create the new bog garden, and install tyre steps.
Wyre class have been the first to have a quick explore of the improved and accessible wildlife area.
We can now use this area to explore different habitats and classify the living things within them for Science as well as just being children and having fun together in there.

Outdoor Space update - April 2021
Before Easter the Lancashire Wildlife Trust created a safe pond area in our school garden. The new fencing and gate means that all classes can safely access this area.
The addition of the bark chip path across the top is also now completed.
Kind donations of tyres from Bee Mill Garage have helped us to start to create an informal seating space in the clearing at the end of the garden.
The next stage will involve Lancashire Wildlife Trust moving the pond out from under the apple tree. This will then enable them to create a new bog garden to encourage wildlife into a different environment.
Raised bed planters are now ready for planting up by each class - Wyre Class immediately started work on theirs when we returned to school for the Summer Term.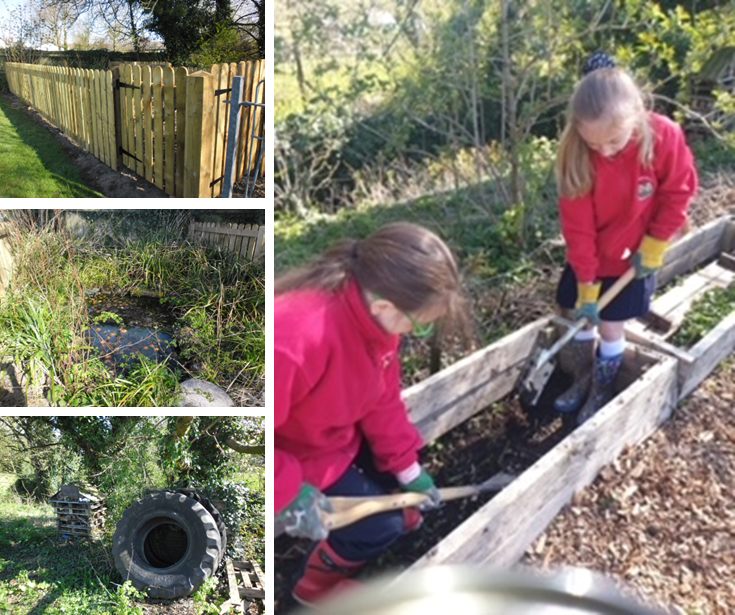 Outdoor Space update - November 2020
Our New Den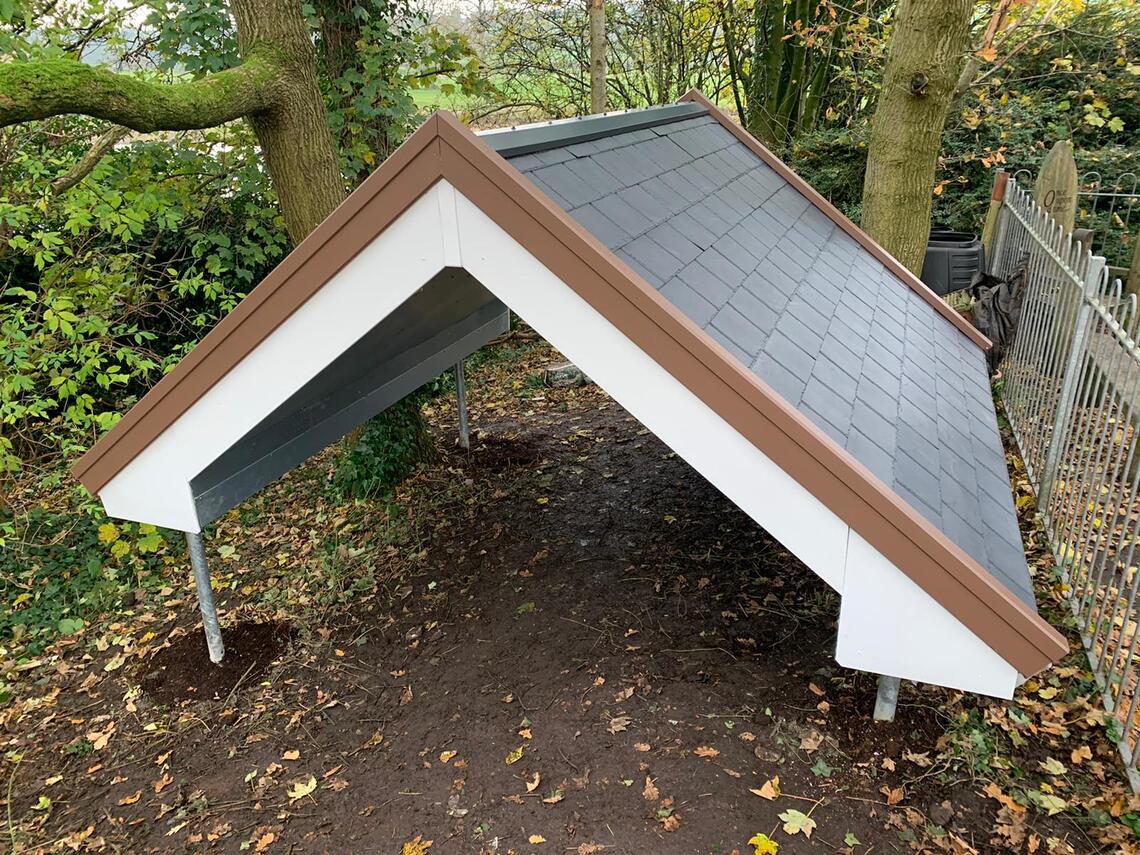 Many thanks to Ultraframe for donating the recycled and spare materials and to all the volunteers from Ultraframe's R&D department for installing this structure which just matched our children's den designs. Everyone worked extremely hard together to incorporate the children's den designs into a practical long-lasting space. We can't wait for dryer weather so we can use it.
The next two phases of this development will be the pond dipping area and the outdoor stage.
'Super Outdoor Spaces' project update April 2019
We have been overwhelmed with your support, generosity and commitment in response to our outdoor spaces improvement project.
We were recently awarded £1000 from the AVIVA Community Fund due to your votes and enthusiasm; this has been used to engage an organisation called 'Groundwork MSSTT' to move our project to the next stage
We have received a donation towards an outdoor stage from the Ribchester Amateur Theatrical Society (RATS)
We have received a donation towards a shed from the Ribchester Allotment and Gardening Society (RAGS) and also a fundraiser BBQ in the near future
We have received a donation towards a path in the garden area from the Ribchester Parish Council
We have had a financial pledge from the village Church Street Fund to support us where possible on our creative journey!
John Morris (based at Bee Mill) will hold a demonstration and creation day at his wooden furniture workshop – for each year group, infants and juniors; based on their designs for signs and wildlife themed art
The Ribchester WI have pledged to support our next dig days (after the hols) with homemade cakes and refreshments
The Ribchester Village Bank Holiday Market on the 27th May will be raising money for our project through the bucket collections; there are lots of buckets so we will need some willing helpers. Please text Viki on 07976836359 if you can help us.
We have now also raised £590 through the website below https://www.justgiving.com/crowdfunding/ribchesterprimaryschool
A huge thank you to everyone so far, this is a very exciting journey for the school and the wider village community and there are still many more local groups discussing ways to support us and keep this momentum going.
Please share the crowdfunding website with everyone you know!
Help us improve the garden and playground spaces for our children and for the future of our village school.